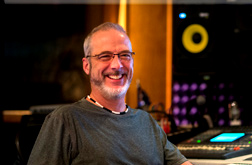 In 1982 a budding bass player / songwriter began down the path of the recording engineer. Humble beginnings of a Tascam four track cassette recorder soon became too confining, and a series of upgrades happened in rapid succession. The first upgrade was to an eight track reel to reel tape machine, then came a 12 track beta machine followed by a rack of DA 88 digital tape machines. Hobby had taken over the heart of Mark Thies. His own music was first for a few years, but people soon heard what he was producing in his basement studio and began to come to him for help recording their projects.

In a matter of five years working full-time as a printing manager and moonlighting as a musician and recordist, the day finally came when he could walk away from his day job and dedicate himself to his true passion, music. The year was 1996. Markosa Studios enjoyed a good following and continued growth and improvement. Mark enrolled in the recording program at UMKC where he was asked on several occasions to lecture the class on digital audio. At that time everything was moving from tape to computer, and Mark was an early adopter of Cakewalk software. As business grew and his family as well, plans got underway to build a 2000 square-foot studio structure onto the back of his house in Roeland Park.



"I've built a place that's comfortable and relaxing yet state-of-the-art technically."
- Mark Thies

Many hurdles were met and many people showed up to help in a way that could hardly be imagined. "It took a mighty effort to get the studio built" Thies said, "I was so fortunate over and over to have things fall into place as if by magic". The new facility opened in Spring 2005. Featuring floating floors and walls, beautiful wood and stone work, purpose built from the ground up, Markosa Studios is a dream come true for owner Mark Thies.



"I've built a place that's comfortable and relaxing yet state-of-the-art technically. It's hard to make beautiful music in ugly surroundings." As the accomplishments and client list grows, so does the sophistication of the sound coming out of these doors. Please join us for a tour and hopefully we can help you move your dreams forward as well. You can be assured that a musician as the lead engineer is a beneficial thing for your next project.